A Student Guide to Light Up Lancaster
Posted on 26 October, 2017 by Peter
All Posts
The Light Up Lancaster festival is on Friday 3rd & Saturday 4th, starting from 5.30pm on both evenings. (Although there are some fringe events you can attend). An enchanting, illuminated art trail will wind throughout the city. It will include projections, artworks and performances. The year's theme is "The Natural World". Events will be held at Lancaster Castle, the library, market square and the Judge's Lodgings, as well as outdoor venues.
The Main Event
For the fireworks, there are three official viewing areas, Quay Meadow, Giant Axe and Williamson's Park. The online wristbands go quickly, but you might be able to get one from the Storey Visitor Information Centre. Williamson's Park is free to all, but it fills up fast, so it's worth getting there early, and wrapping warmly! The viewing areas are not covered and may be muddy - the Lancaster Castle area itself will be closed off.

The Storey
Butterfly Transformationis a garden exhibit at the Storey. It includes stunning 3D printed butterflies, all the way from China. They were made with cutting edge techniques and programmable LED lights. They've landed in the Storey Garden, having flown all the way from the Guangzhou International Light Festival.

The Moon Seat is a fun, interactive light installation by Alex Jenkins & Owen Hindley. It was inspired by old folktales and fables. It uses shadows and light to create new stories, inspired by the light of the moon. (1st Floor Gallery at The Storey).


Lancaster Castle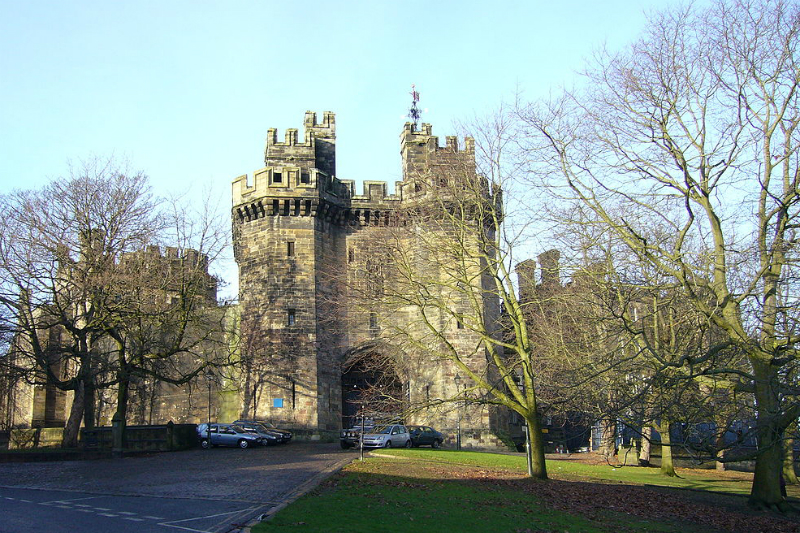 Photo by Tom Oates [CC BY-SA 3.0 (https://creativecommons.org/licenses/by-sa/3.0)], via Wikimedia Commons
In the castle itself, you will be treated to James Hamilton's Trespass. Trespass is an outdoor video mapping and auditory piece. It will light up Lancaster's grey walls with the story of a child who sets out on an adventure to find more. The projection will also integrate performances by a community choir.


Market Square
Market Square in the town centre will host More Music, with Sigh of the Sea, hosted by Gacko. There will be a decorated, illuminated roofed area with changing acts. It will include an ambient soundscape of the sea, with overlaid whispers. There will also be a chorus and a band of sixty mariners.
There will also be plenty of events in local bars and pubs, one of the reasons why choosing student houses for rent in Lancaster is great!
This entry was posted in
Student Tips
and tagged on 26 October, 2017 by Peter.