NoPosit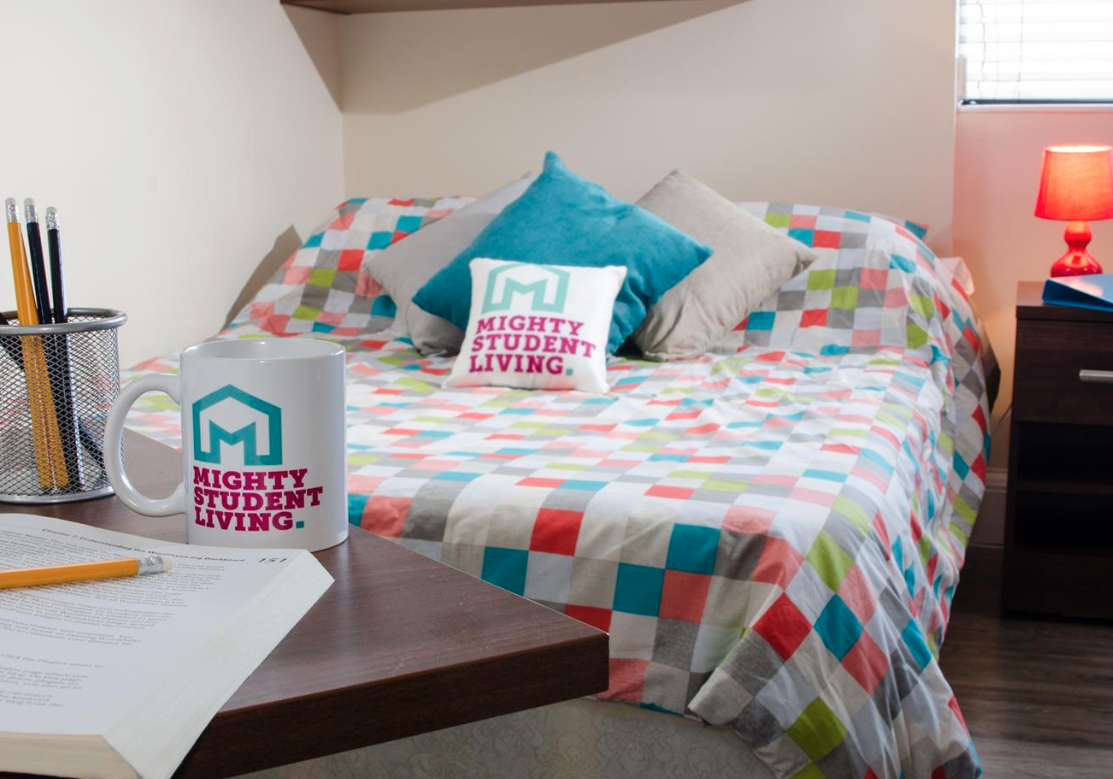 No more hassle with NoPosit!
Moving into a student house can be a financial challenge. Seldom can a student afford a hefty deposit and a few weeks' rent before moving in and receiving student finance. Therefore, at Mighty Student Living, we now offer no deposit rooms in Lancaster with "NoPosit", a more affordable way of securing your student home! Say goodbye to upfront costs and hello to a stress-free renting experience.
NoPosit is a hassle-free alternative to a traditional deposit, providing an opportunity to secure your house for an initial payment of just £30. NoPosit is a non-refundable fee, however, it is much smaller than a traditional deposit. In total, the NoPosit is £180 but you only pay £30 when you sign the tenancy agreement and a further £30/month is collected for 5 months via direct debit.
The NoPosit helps to avoid problems if accidental damage occurs during your tenancy. Instead of traditional deductions from your deposit at the end of the tenancy, you have the benefit of Endsleigh Insurance (subject to insurance excess for each claim). This means that you can claim on your insurance for accidental damage in your student home rather than pay for the damage yourself when you leave.
It's important to note that while wear and tear is expected, students are liable for any damages that go beyond this. We encourage responsible tenancy throughout your stay.

The Benefits
Choosing the NoPosit scheme brings a host of advantages, making your student life both more secure and enjoyable. Not only do you save on upfront costs, but you also gain peace of mind with comprehensive coverages and exclusive perks.
Here's what you'll enjoy as part of the NoPosit scheme:
Spread Costs: Just £180 total, spread over up to 6 months with payments of £30, starting when you sign the tenancy agreement.
Insurance Coverage: Includes £5,000 personal items cover, £2,000 for laptops and desktops, £1,000 sports equipment cover, and £5,000 accidental damage cover to Landlord fixtures and fittings.
Competitions: Get the chance to win exciting prizes like free rent, enhancing your student experience without extra costs.
Exclusive Discounts: NoPosit students enjoy special discounts at select local venues, such as Cappuvino Bar and Restaurant, offering a premium lifestyle on a student budget!
| | NoPosit | Deposit |
| --- | --- | --- |
| Price | 6 x £30=£180 (payments spread over up to 6 months) | £400 |
| Payment plan | First £30 when signing the tenancy agreement and direct debit for 5 months of £30/month | All £400 when signing the tenancy agreement |
| After the tenancy | No waiting and guessing how much of the deposit will be returned** | Deposit deductions can take time to resolve and when refunded, it goes to the Lead Tenant to be distributed amongst all the tenants. |
| Extras | Exclusive discounts at Cappuvino Bar and Restaurant with our student discount card - (available to Noposit students only) | - |
Don't miss out on this incredible opportunity and explore our range of no deposit student accommodation now!
If you need to make a claim please view our NO POSIT POLICY DOCUMENTS.
Terms and conditions apply – in particular - please note that the insurance does not cover malicious damage, excessive wear and tear or the cost of cleaning.
**Tenant is still liable for damage and cleanliness of the property and the cost of this may be invoiced to you at the end of the tenancy.
What's included?
Excellent
locations
Bills
included*
24HR
emergency
Wifi
included*
Houses, Studios,
Rooms & Apartments
Flexible Rent
Payments
En-suites
Available
2 Bed to
10 Bed Houses
*included on most properties, please check with the individual listing to confirm what is not included