8 Ways To Personalize Your Student Room Without Risking Your Deposit
Posted on 20 September, 2019 by Administrator
All Posts
Student rooms are a unique living space. The room needs to have space to relax, work, store your whole wardrobe (and many other tings) as well as it needs personality. We compiled this list with various student and deposit friendly design ideas that will help you create your own unique and functional space.
1. It's all about the light
Mirrors
One of the key ingredients in a successful living space is natural daylight. Being able to manage the light in your space is crucial to having an effective day to night (or night to day for party lovers) routine. Find the point that natural light enters your room and if there isn't much of it, use mirrors to increase your light quota. So, for example if you only get natural light from the hallway, put a mirror opposite your door to double or even treble its effect. For a maximum effect use big free-stand mirrors or smaller ones in different sides of the room, so the mirrors help the light to travel all around your room.
If you are looking for an ultimate favourite mirror of students in Lancaster, check this bestseller from Wilko's. We saw hundreds of student rooms that had this mirror because it is so versatile - you can free stand it, hang it on the door or a wardrobe, even hang it horizontally for a dramatic and stylish solution. Warning: we do not recommend hanging it on the walls using blu tac, white tac or any other ways that could damage the walls, as it will impact your deposit.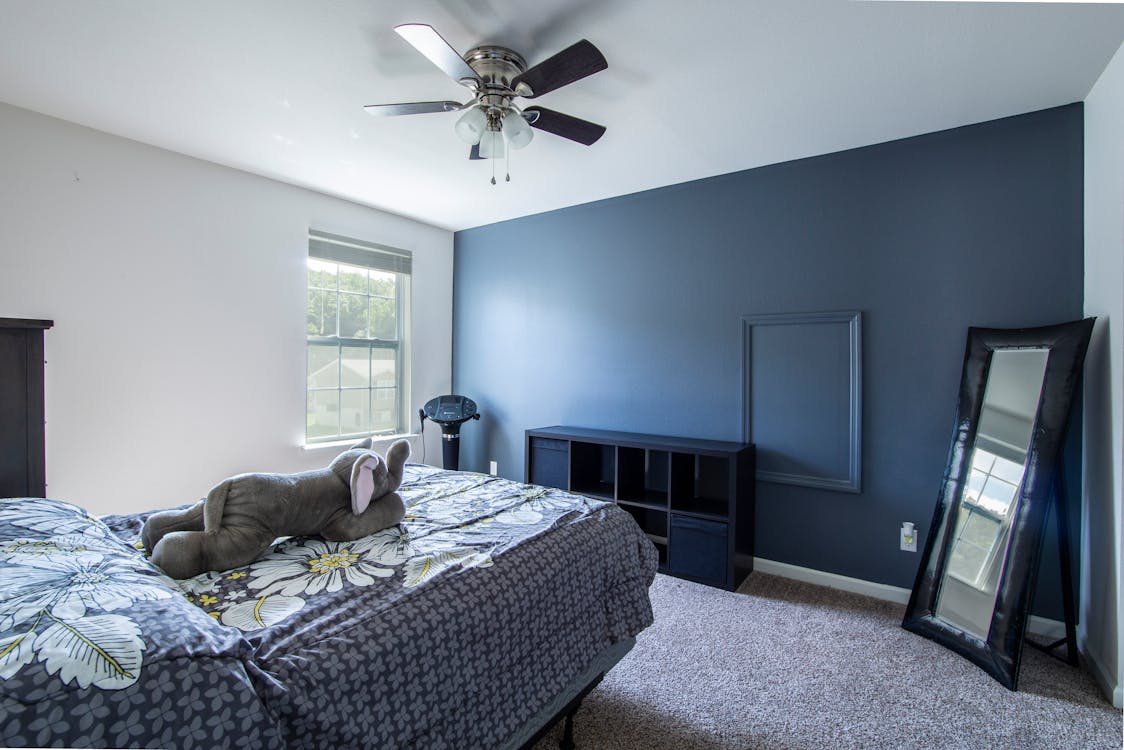 Light fittings
Another way to improve the lightness and brightness of the room is increasing the amount sources of light. Try incorporating lighting at eye level or higher, whether in the form of table lamps, floor lamps or even fairy lights and create a stylish and cozy atmosphere in your room.
Personalize your lamp
We found this quick and easy DYI project that will unleash your creativity and put your stamp on in the room. All you need to do is get your own lampshade that has a thin fabric or is made out of paper and poke holes in it of your desired design. This not only makes the lamp shade unique, but also it projects a lovely pattern on the walls. Perfect for a comforting night light!
Warning: make sure you use your own lampshades and not the ones that came with the house as you might risk losing your deposit!
2. Make that colour pop
The best way of personalizing your own space is by choosing a colour theme and using soft furnishings to implement it. Use pillows, cushions, throw blankets and even rugs to create your desired look. Use the furnishings in different areas of the rooms to create a unified theme. If you love several colours or shades, try to get some items that incorporate the colours in a pattern - that will help to pull the room together in a stylish way.
P.S. Have a worn area on the floor? Cover it with a rug that you like. Not only it revive the look of the whole room, but also will help you prevent further damage or spills on the current rug. This way you save both your deposit money and style in your room!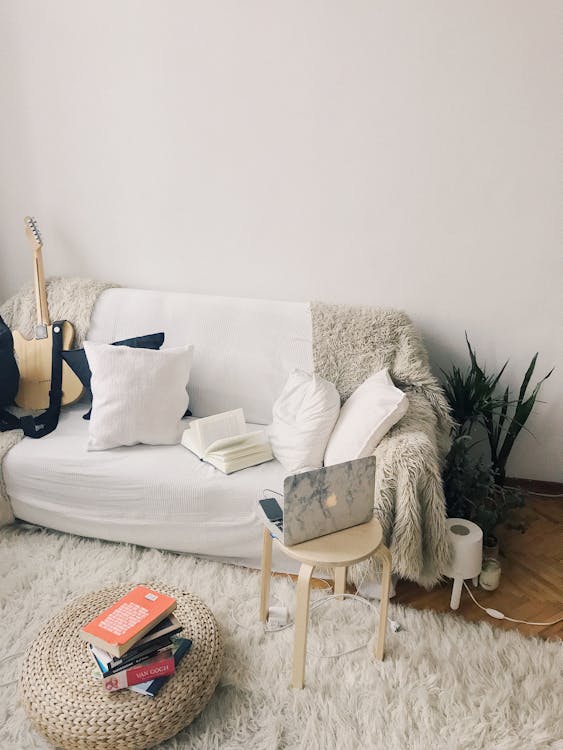 Accessorize
Your personal touches will be the ones that make the space feel like home. It might be favourite photographs, your bookshelf, a vital collection of music or some artwork that has great meaning for you. Use these elements as the starting point for accessorising your room - so if your books are your core possessions, consider investing in great bookshelves, a set of Penguin Classic mugs and a doorstop that has been painted to resemble a book. Harmonising details in your space gives you a greater sense of being at home.
3. Go green
NASA says that some houseplants improve indoor air, and who's going to argue with that? But any indoor plant can improve your mental health in three ways:
1. Better air (as we said, NASA, right?)
2. Nurturing things nurtures us (being given something to look after can give us a simple purpose and sense of achievement which carries us through tough days)
3. A growing plant has the psychological effect of grounding us and adding to our serenity - a jade plant or aloe in your revision corner can offer a small but worthwhile boost to your mental health when studying.
Finally, plants help to create a nicer and more stylish atmosphere in the room. Its a natural way of putting in colour and various textures to your room.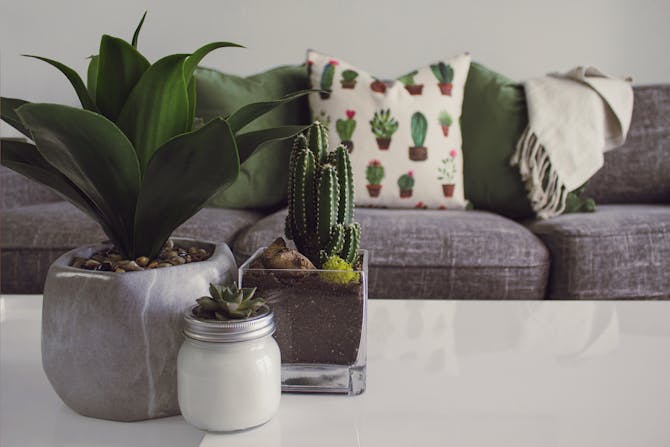 Bring outside in
Bring the outside in with freshly cut flowers, branches, river rocks, pine cones and whatever natural, organic ingredients you can find. Place flowers and branches in tall glass vases. Group your rocks, and pine cones on platters, trays and large glass bowls. Place these organic wares strategically through your home or room.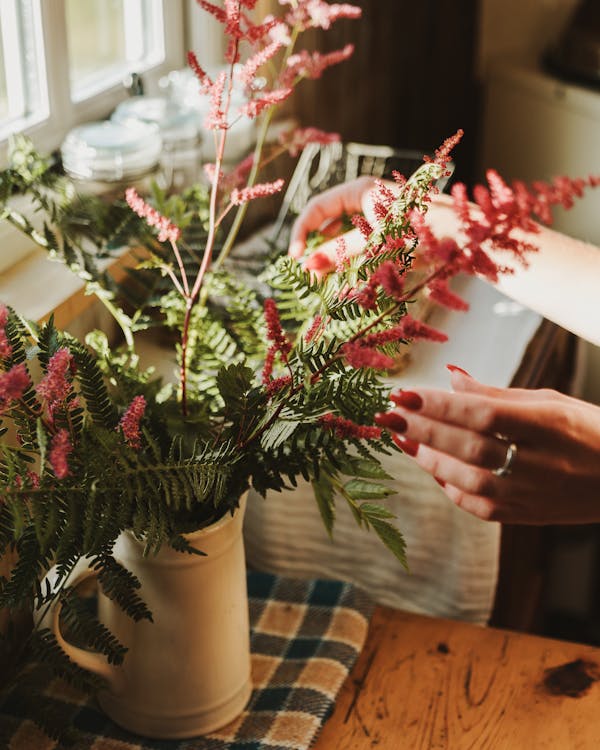 4. Handle the chaos
Organizing your space not only helps you to safe space but also it gives you peace of mind. Some organizing hacks will also please your eyes whilst making your tidying easier. Drawer and wardrobe organizers are the perfect solution when you have more clothes than space. Pinboards can serve as jewellery display. Make sure to check out decorative storage boxes in the local shops; you can put seasonal items or things that you do not use as often and place them on the top of the wardrobe or under the bed. That will create more space and reflect your style.
5. No more blu tac!
After inspecting hundreds of houses we can confirm, that blu tac is definitely in TOP 3 reasons of losing your deposit. 9/10 times it will leave marks on the wall or even peel the paint off the wall when you are trying to remove it. Here we have some solutions of how to decorate your walls without damaging them.
Command hooks
These removable wall mounts come in a range of sizes, so you can hang up everything from your favourite artwork to your winter coat without leaving a trace behind on the wall when you leave. Warning: before using any material on the walls (including the ones that we suggested) remember that they might damage the walls and impact your deposit.
Use what you have already
Most of the tenancies come with a requirement of no damage to the walls. However, some of the rooms already have hooks or nails sticking out the walls. Make sure to use the opportunity and hang your loved wall art by using a pants hanger.
6. Do it yourself
Some rooms come with lots of space but not much storage. To tackle this problem there is always an opportunity to create furniture from things that can you find for free. Another option is going to charity shops and adapting (or not) the furniture to your taste. For fellow Lancaster and Cumbria University students, we are suggesting to check out
Farplace Animal Rescue Charity Shop
in Morecambe. This shop has some real gems (from crockery to furniture) for affordable prices.
The photo shows an easy way of making a shelf from milk crates and couple of planks.
7. Match it up
A lot of student houses have open wardrobes. To avoid a disorganized look we suggest looking for matching hangers that will help to create a unified look of your wardrobe.
8. Clean up
Make sure you have a box or bin that stores all your cleaning and freshening materials. Some people like to invest in an ottoman or bench seat to hold all their domestic supplies while others prefer an under-bed box or a pull out container hidden in a cupboard. Whichever you choose, knowing you've got the kit to clean up spills or remove smells gives you a sense of control over your environment.