Upcycle Your Student Room - 5 Top Tips to Improve Your Living Space
Posted on 27 February, 2018 by Peter
All Posts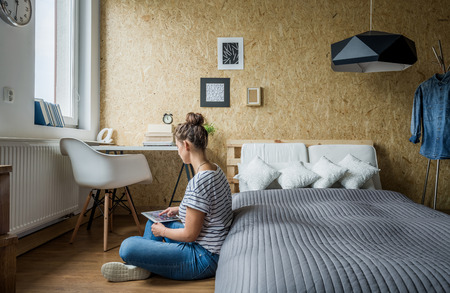 Your student accommodation is going to be a large part of your life for the next few years. It may even be the make-or-break element in your success. So how can you make your student room into a space that helps you to live, work and play?
1. Head for the light
Unlike the old joke about 'stay away from the light', one of the key ingredients in a successful living space is natural daylight. Being able to manage the light in your space is crucial to having an effective day to night (and night to day which is often more important for partying students!) routine. Find the point that natural light enters your room and if there isn't much of it, use mirrors to increase your light quota. So, for example if you only get natural light from the hallway, put a mirror opposite your door to double or even treble its effect. If your room is south-facing, roller or venetian blinds can give you fingertip control of the amount of light entering your room and if you can't afford those, consider a divider screen to limit light access.
2. Accessorise
Your personal touches will be the ones that make the space feel like home. It might be favourite photographs, your bookshelf, a vital collection of music or some artwork that has great meaning for you. Use these elements as the starting point for accessorising your room - so if your books are your core possessions, consider investing in great bookshelves, choosing library themed quotes for your posters, a set of Penguin Classic mugs and a doorstop that has been painted to resemble a book. Harmonising details around the most important part of your space gives you a greater sense of being at home.
3. Go green
NASA says that some houseplants improve indoor air, and who's going to argue with that? But any indoor plant can improve your mental health in three ways:
1. Better air (as we said, NASA, right?)
2. Nurturing things nurtures us (being given something to look after can give us a simple purpose and sense of achievement which carries us through tough days)
3. A growing plant has the psychological effect of grounding us and adding to our serenity - a jade plant or aloe in your revision corner can offer a small but worthwhile boost to your mental health when studying.
4. United we thrive
Which is why we love washi tape. This Japanese version of the old-school masking tape serves two fantastic purposes:
• You can use it to stick anything to the wall without leaving a mark (although double check that your student lease allows you to stick things to the wall first!)
• It can be used to created a united theme to your room. Try it around picture frames and posters, tape a strip to the top and bottom of your lampshades, use it to outline your bathroom mirror and run a strip along the top of each of your folders to create a coherent look and to ensure you can always spot your materials in study hall or library.
5. Clean up
Make sure you have a box or bin that stores all your cleaning and freshening materials. Some people like to invest in an ottoman or bench seat to hold all their domestic supplies while others prefer an under-bed box or a pull out container hidden in a cupboard. Whichever you choose, knowing you've got the kit to clean up spills or remove smells gives you a sense of control over your environment.
This entry was posted in
Student Tips
and tagged on 27 February, 2018 by Peter.